KIDS AND KUBS ANNOUNCE ALL-STAR SQUAD TO OPPOSE CITY HALL STARS ON SATURDAY, FEBRUARY 4.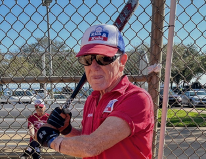 A fifteen-player All-Star team is ready for the 52nd Annual Kids and Kubs-Mayor's game at North Shore Park, 901 North Shore Blvd, St Petersburg, at 11:30 AM. Saturday, February 4.
The event will feature a 9:30 AM preliminary game with youth from TASCO Teen Center of St Pete, a canned food drive benefiting St Petersburg Free Clinic, donations to local charities, and food truck specialties. Finally, the 52nd annual softball game pitting Mayor Welch's City Hall Stars against the Kids and Kubs All-Stars.
Cubbie Kutchinski will captain a formidable array of talent seeking to bring the traveling trophy back to the office of the Three-Quarter-Century Softball Club located in the St Petersburg Sunshine Center.
Kids and Kubs roster includes; Cubbie Kutchinski (Captain), Franklin Harrell, Robert Kane, Gordon Norton, Mike Vander Syde, Alfred Broomes, Frank Sirois, Darwin Shifflett, Dennis Kuvalanka, Michael Footlick, Mitchell Kanaan, John Draeger David Glauner. And pitchers Walt Ewald Kaz Gora.
History of the game finds the Kids and Kubs leading by a good number of games won by the softball club's All-Stars. However, the Mayor's team did prevail 13-6 in 2022.