The Girl in the Window: A Conversation with Lane DeGregory interviewed by Maria Carrillo
Thursday, June 15, 2023 (7:00 PM - 8:00 PM) (EDT)
Description
Tombolo Books is thrilled to welcome Pulitzer Prize-winning journalist Lane DeGregory to the bookstore to discuss her acclaimed anthology, The Girl in the Window And Other True Tales.


Part anthology and part craft guide, The Girl in the Window And Other True Tales offers something for readers and writers alike.

Lane DeGregory loves true stories, intimate details, and big ideas. In her three-decade career as a journalist, she has published more than 3,000 stories and won the Pulitzer Prize for feature writing. Her acclaimed work in the Tampa Bay Times often takes her to the edges of society, where she paints empathetic portraits of real-life characters.

This book provides a forensic reading of twenty-four of DeGregory's singular stories, illustrating her tips for writers alongside pieces that put those elements under the microscope. Each of the pieces gathered here—including the Pulitzer Prize–winning title story—is accompanied by notes on how she built the story, plus tips on how nonfiction writers at all levels can do the same.

DeGregory will be joined in conversation by her long-time friend and former editor at the Tampa Bay Times, Maria Carrillo.

Let us know we will see you there! Please RSVP HERE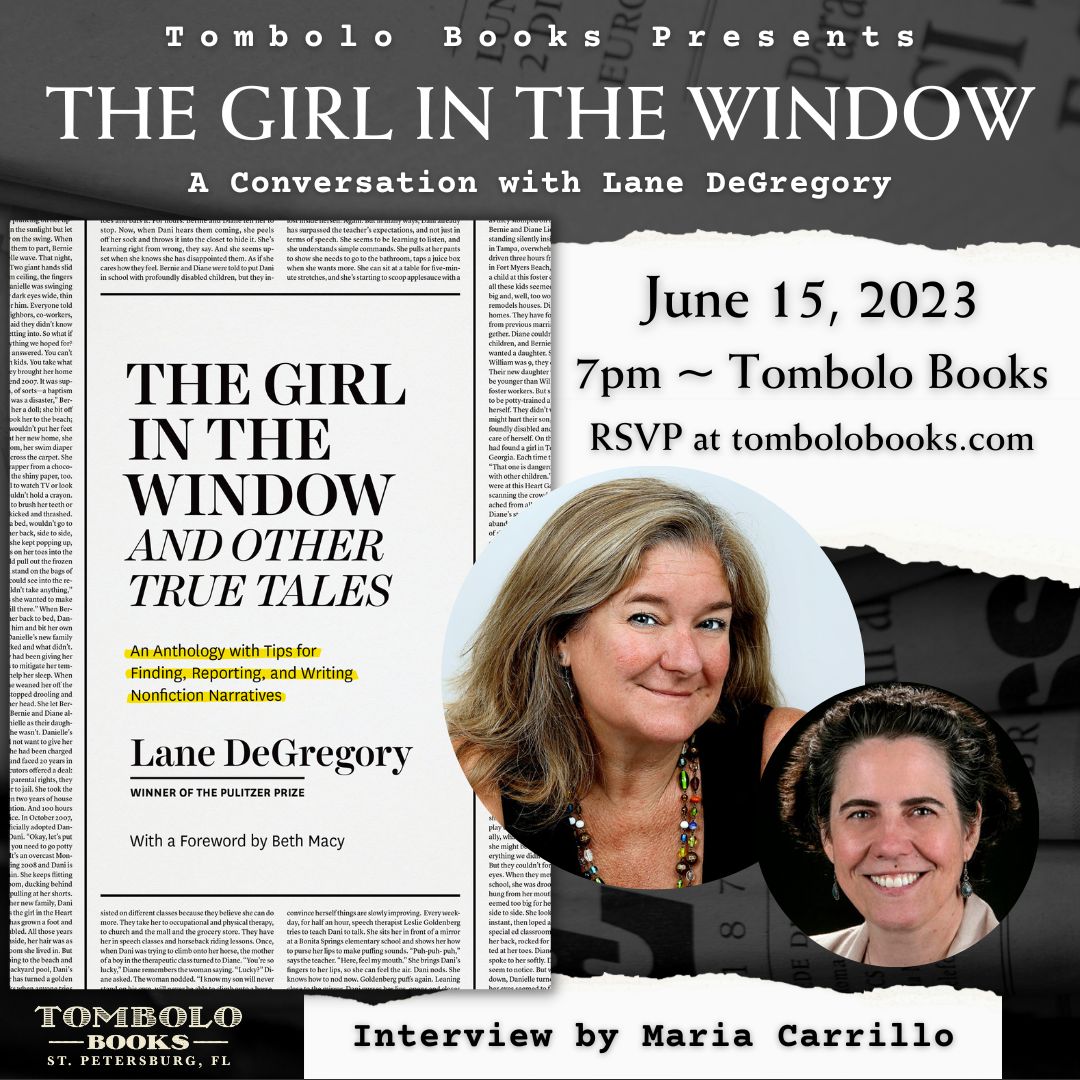 Lane DeGregory is a Pulitzer Prize-winning writer who has worked at the Tampa Bay Times for more than two decades. She loves imbedding in strangers' lives and telling stories about people in the shadows. She went to work with a 99-year-old man who still swept out a seafood warehouse, walked with an old yellow lab who kept saving his owner, followed a feral child who was adopted. Lane grew up near Washington, D.C., and her parents read the newspaper to her every morning. At age 5, when the Watergate scandal splashed across the front page, she decided she wanted to be a journalist. She graduated from the University of Virginia, where she was editor in chief of The Cavalier Daily student newspaper. Later, she earned a master's degree in rhetoric and communication studies from the University of Virginia.She teaches at the University of South Florida, the Poynter Institute and journalism conferences around the world. She hosts a podcast, WriteLane, on iTunes. And has a new annotated anthology: The Girl in the Window and other true tales.
Lane is married to a drummer, Dan DeGregory, and they have two sons in their 20s, Ryland and Tucker. She's also a dog ma and die-hard Deadhead.
Maria Carrillo is a consultant and coach after spending 36 years in seven newsrooms. She was enterprise editor at the Tampa Bay Times and Houston Chronicle and, before that, managing editor at The Virginian-Pilot. She has edited dozens of award-winning projects, frequently lectures on narrative journalism and co-hosts a podcast (WriteLane) about craft. She is a board member of the Virginia Center for Investigative Journalism and the National Press Photographers Association and a juror for the Hillman Prizes. Carrillo was born in Washington, D.C., two years after her parents left Cuba in exile. She now lives in St. Petersburg, Fl.
Pricing
Please R.S.V.P. via the link above!
Thursday, June 15, 2023 (7:00 PM - 8:00 PM) (EDT)
Categories
Community
Educational
General