SECLUDED CABIN SLEEPS SIX: Lisa Unger's 20th Book Celebration and Launch
Monday, November 7, 2022 (7:00 PM - 8:00 PM) (EST)
Description
Three couples rent a luxury cabin in the woods for a weekend getaway to die for in this chilling locked-room thriller by New York Times bestselling author Lisa Unger.
For her TWENTIETH novel, the thriller queen Lisa Unger takes readers deep into a twisted web of family secrets, hidden identities, and sinister deceptions!
And Tombolo Books is bringing you the exclusive launch event for SECLUDED CABIN SLEEPS SIX!
Unger will be in conversation with Colette Bancroft, Book Editor from the Tampa Bay Times for this exciting event!
TICKET PACKAGES:
Pre-Event Party and Launch Event Package
$45 ticket includes entrance to the pre-event party at Tombolo Books & Launch Event at Coastal Creative for one person and one copy of
Secluded Cabin Sleeps Six
Launch Event plus one Guest Package
$35 ticket includes admission to the Launch Event at Coastal Creative for you and one guest and one copy of
Secluded Cabin Sleeps Six

Launch Event Package
$27.99 ticket includes one admission to the Launch Event at Coastal Creative and one copy of Secluded Cabin Sleeps Six

Virtual Attendance
$5 ticket includes access to the virtual launch livestream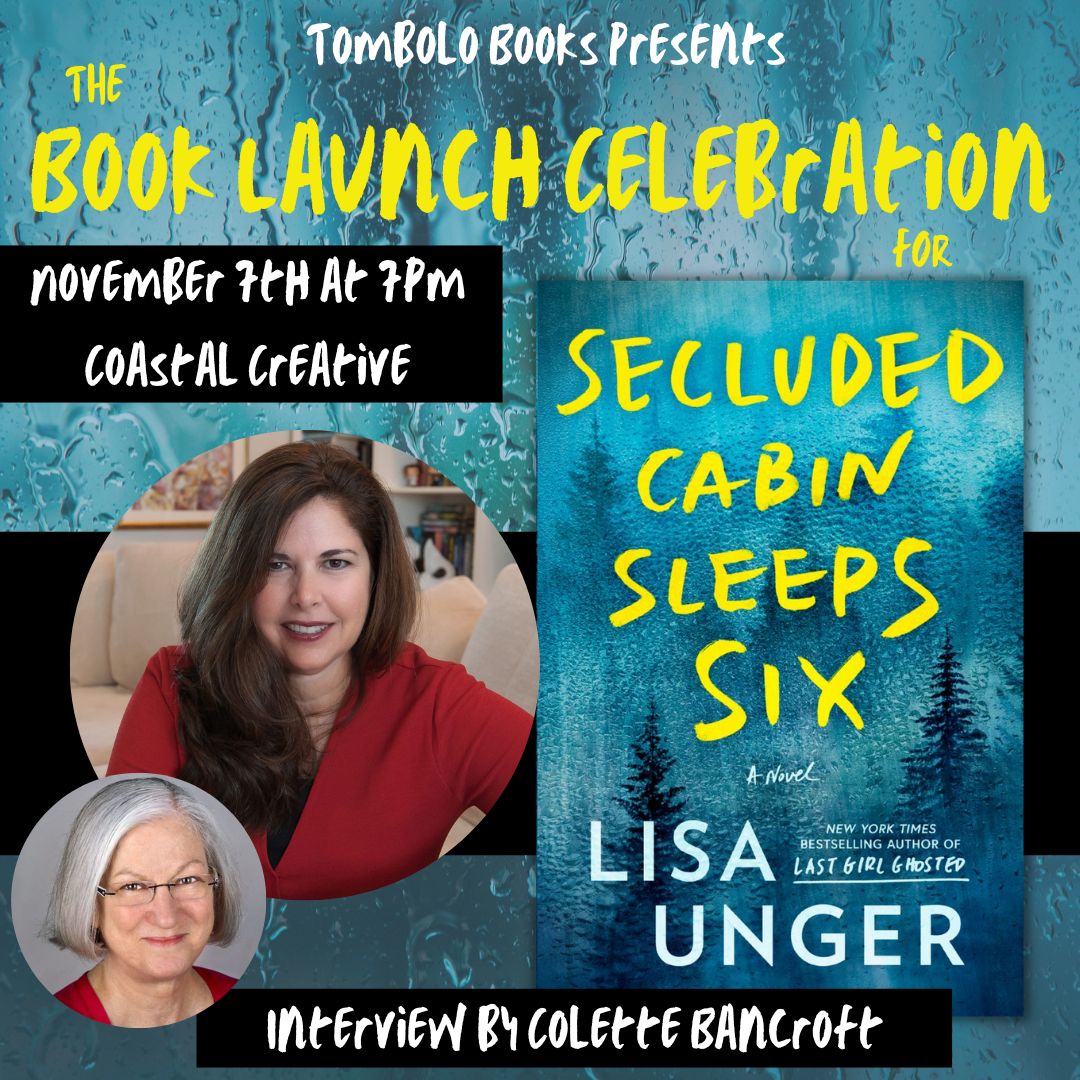 Lisa Unger is a NYT and internationally bestselling author. Her books are published in 31 languages, with millions of copies sold worldwide. In 2019, she received two Edgar Award nominations, an honor held by only a few writers including Agatha Christie. Her work has been named on "Best Book" lists from Today, People, GMA, EW, Amazon, IndieBound and many others. She has written for the NYT, WSJ, NPR, and Travel+Leisure. She lives in Florida with her family.

Colette Bancroft has been the book editor at the Tampa Bay Times since 2007. In addition to writing reviews and interviewing authors, she directs the annual Tampa Bay Times Festival of Reading. She served two terms on the board of the National Book Critics Circle. Bancroft earned degrees in English from the University of South Florida and the University of Florida, and she wishes she had finished her dissertation on the novels of Raymond Chandler.
Pricing
TICKET PACKAGES:
Pre-Event Party and Launch Event Package
$45 ticket includes entrance to the pre-event party at Tombolo Books & Launch Event at Coastal Creative for one person and one copy of Secluded Cabin Sleeps Six
Launch Event plus one Guest Package
$35 ticket includes admission to the Launch Event at Coastal Creative for you and one guest and one copy of Secluded Cabin Sleeps Six
Launch Event Package
$27.99 ticket includes one admission to the Launch Event at Coastal Creative and one copy of Secluded Cabin Sleeps Six

Virtual Attendance
$5 ticket includes access to the virtual launch livestream
Monday, November 7, 2022 (7:00 PM - 8:00 PM) (EST)
Monday November 07, 2022 | 7:00PM - 8:00PM
Categories
Community
Educational
Networking