Description
Tombolo Books in partnership with the Gulfport Public Library's LGBTQ Resource Center, Keep St. Pete Lit, and Your Real Stories is proud to welcome poet and professor Dr. Stephanie Burt to the bookstore as part of our ongoing poetry series co-hosted by Gloria Muñoz.
Dr. Burt will be reading from her forthcoming collection We Are Mermaids (Oct. 4) which is already being praised as her best book yet!
We Are Mermaids examines the things of this world, both real and imagined objects of fascination and desire. In this resplendent new collection, her observation and care flourish into her most fulfilled book yet. These poems shake off indecisiveness and doubt to reach joys through romance and family, through nature (urban and otherwise), and through imaginative community. We Are Mermaids is a trans book, a fangirl book, a book about coming together.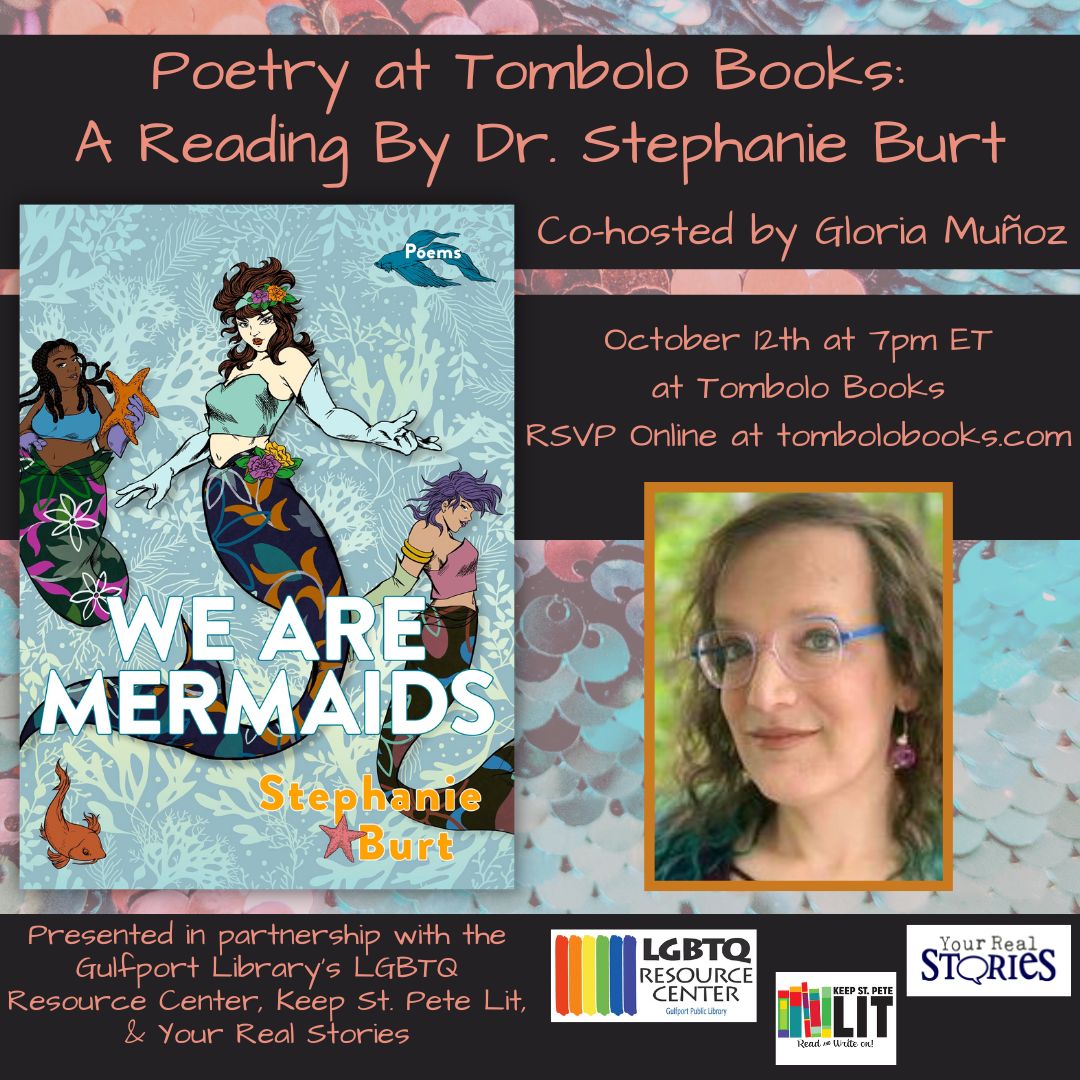 Stephanie Burt is the author of five poetry collections, including Advice from the Lights and Belmont, and several works of criticism, including Don't Read Poetry and Close Calls with Nonsense. She teaches at Harvard University.
The LGBTQ Resource Center is committed to promoting awareness of the diversity of experiences, contributions and needs of people who are lesbian, gay, bisexual, transgender and/or queer. We do this by providing educational, social and recreational opportunities through the Gulfport Public Library, including books, films, music, speakers, exhibitions and other events, as well as an online presence.
KEEP ST. PETE LIT celebrates and promotes greater St. Petersburg's literary community – past, present and future – through arts, education and events with a literary twist. We are readers, writers and lovers of words who strive to bring an approachable, engaging literary component to St. Petersburg's vibrant arts community. Our headquarters are located at 2622 Fairfield Ave S. St. Petersburg within The Factory St. Pete.
Your Real Stories is committed to telling the stories of the shared human experience. Our vision is to create, grow, and sustain an inclusive movement of people and communities around the world who strive to explore and understand their own stories and the experiences of others. Our mission is to create space for people to experience the compelling authentic stories of real people and to find the common threads that tie us together as human beings.
Dr. Burt will also be in conversation with Professor Kristen Adams on October 13th, 7pm ET, at the Gulfport Public Library and on Zoom. The two will be discussing intersections of LGBTQ Identity and Literature: Why is LGBTQ literature important? What has – and hasn't – changed in the stories told by LGBTQ authors, and public reactions to them? For more information and to register, please visit the Eventbrite page!