Hunters Point Launch Event with Peter Kageyama
Tuesday, January 31, 2023 (7:00 PM - 8:00 PM) (EST)
Description
In 1958, San Francisco was in the midst of an economic, demographic and cultural growth. Yet many still felt like outsiders to that prosperity and when they needed help, they turn to Kats Takemoto!

Tombolo Books welcomes Peter Kageyama to celebrate the launch of his debut crime fiction novel, Hunters Point! Best known for his engaging books on city planning and falling in love with cities, Kageyama is venturing into the world of historical crime fiction with this rousing tale of cover-up, betrayal and blackmail. Kageyama will be in conversation with Keep St. Pete Lit founder, Maureen McDole.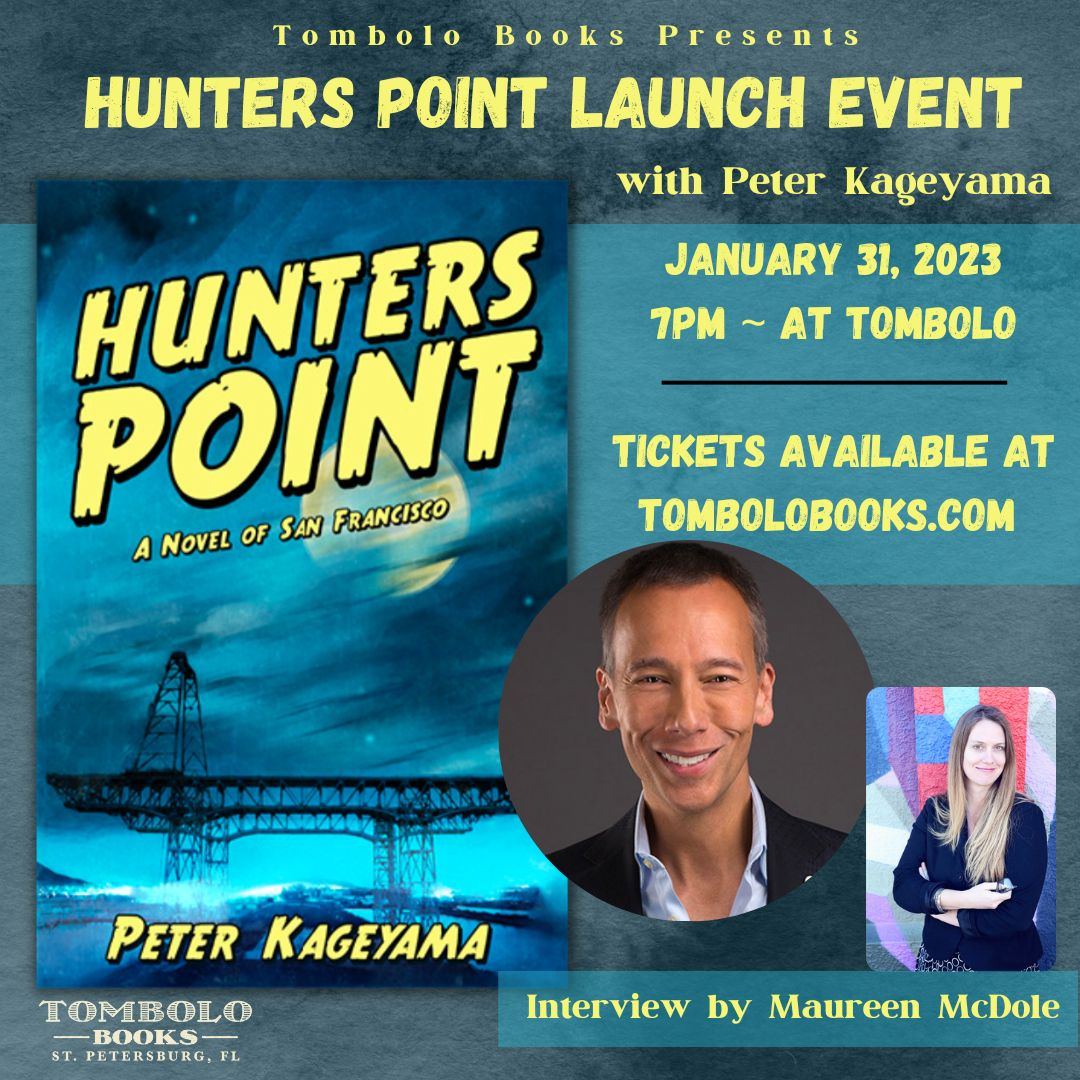 Peter Kageyama
is a third generation Japanese American – sansei. He is a former Senior Fellow with the Alliance for Innovation and the author of four nonfiction books on cities and urban development.
Peter lives in downtown St. Petersburg, Florida.
Hunters Point
is his debut novel.
Maureen McDole was born in St. Petersburg, Florida. She is a direct descendant of carnies, carpenters and fisherman. Her first book of poems, Exploring My Options, came out in 2006. Her second poetry book, Longing for the Deep End was released in 2011.
She has a BA in English Literature from the University of South Florida and a certificate in Arts & Culture Strategy from University of Pennsylvania. Her poetry has been set in a variety of different ways including: film, dance, spoken word, art installations, Sprechstimme, and traditional vocal works. She founded the literary arts organization, Keep St. Pete Lit, because she believes wholeheartedly in the power of literature to change the world.
Tuesday, January 31, 2023 (7:00 PM - 8:00 PM) (EST)
Tuesday Jan 31 2023 7:00pm - 8:00pm
Categories
Community
General