Description
Join author and carnivorous plant nurseryman Kenny Coogan as he shares the murderous qualities of these wicked plants! The plant sale pop-up will feature lowland and highland Nepenthes (pitcher plants), Drosera (sundews), Sarracenia (North American pitcher plants) and the infamous Venus Flytrap!

Coogan will also share more from his new book Florida's Carnivorous Plants: Understanding, Identifying, and Cultivating the State's Native Species.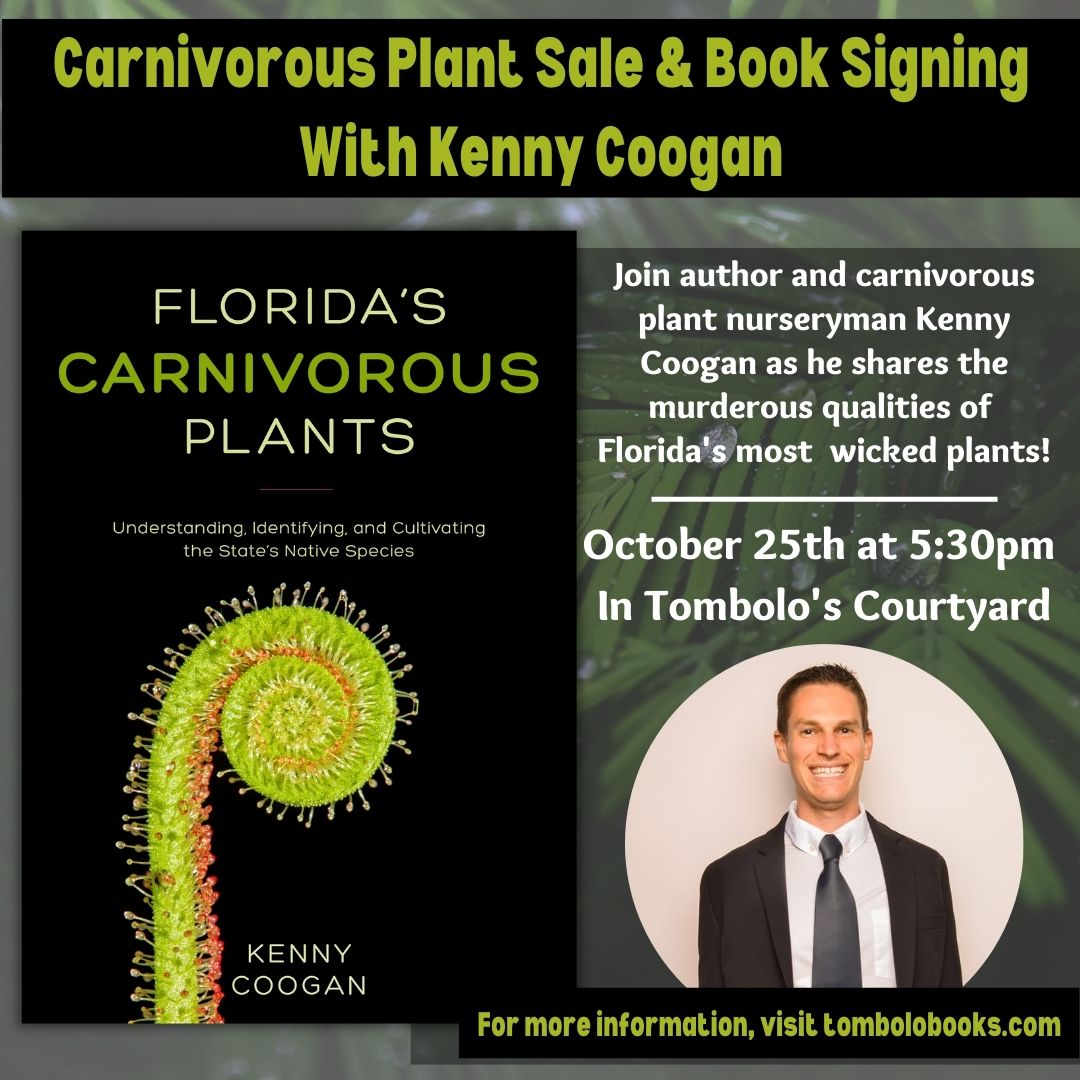 In Florida's Carnivorous Plants, learn about Florida's endemic carnivorous plants in this exciting book written for the budding naturalist and hobbyist. Florida has dozens of native species of carnivorous plants––more than any other state in the United States—including sundews, butterworts, bladderworts, and pitcher plants. These plants use appealing scents, leaves, and sticky fluids to trap and imprison insects. Digestive fluids then absorb the prey giving the plant its nutrients. Many of these plants can be grown at home in the backyard, in rain gardens, or in some cases on the windowsill.

Florida's Carnivorous Plants provides an identification and growing guide for the major genera of carnivorous plants found in Florida. Each species description includes etymology, a history of the plant's discovery highlighting diverse scientists, anatomy, habitat range, and popular cultivars for beginners. Tables include soil requirements, types of potting, water level, amount of light, dormancy and temperature requirements, and propagation tips. A glossary provides readers with the tools to learn botanical jargon to improve their identification skills.

Kenny Coogan has a Master's Degree in Global Sustainability and is passionate about Florida's wildlife and plants. His professional experience with carnivorous plants started fifteen years ago when he cofounded the Western New York Carnivorous Plant club. Since then he has moved to Florida to teach middle school science and agriculture. He was awarded the Best Beginning Science Teacher for the state of Florida. He has published over 400 articles on pets, livestock, and gardening for publications including Countryside, Hobby Farms, Chickens, Backyard Poultry, and Florida Gardening magazines. Coogan is an active member with the International Carnivorous Plant Society. He now runs a successful carnivorous plant nursery in Tampa, Florida.